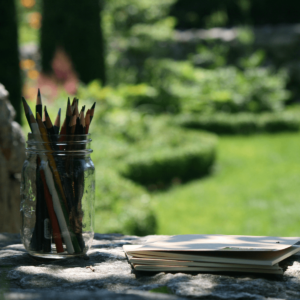 For those of you I haven't met, I'm Jen Kehs, a graduate of InsightLA's facilitator training program. I currently guide drop-in meditations at InsightLA, occasionally lead the Mindful Writer's Sitting Group and co-facilitate InsightLA's Queer Mindfulness affinity group. One InsightLA teacher in particular has been a profound inspiration to me in my own practice and in my work as a facilitator. When Trudy asked me to be a guest writer for the InsightLA blog this week, my first thought was to shine a light on this very special teacher, Amy Spies. 
For the past five years, Amy has led the bi-monthly InsightLA Mindful Writers Sitting Group which meets at our Santa Monica location. She often hosts daylong workshops for writers at the InsightLA non-residential retreat center in Benedict Canyon, allowing for a deeper exploration of mindful writing. Amy is also a devoted philanthropist and plays a very important part in our Insight in Action program. I sat down with her to discuss her work with Insight in Action and I discovered some fascinating aspects to this amazing woman.
Amy describes how her passion to work on behalf of underserved people was ignited: "My older sister, who was born with brain damage, has been an inspiration, along with my mother, who opened our doors and her heart to people needing help as they found their next step." Through Insight in Action, Amy currently offers her Mindful Writing format for individuals experiencing chronic homelessness at Step Up on Second, the Downtown Women's Center (
alternating with InsightLA 
teachers 
Alisa Dennis
 and 
Stella Cruz
)
, and to formerly incarcerated youth at InsideOUT Writers.
In Amy's words: "For some of the inspiring people I serve through Insight in
Action, everyday experience has become infused with shame due to external 
circumstances largely out of their control. For example, when I began working at 
the Downtown Women's Shelter, many participants were still recovering from the
devastating aftershocks of the global economic recession. They had lost longtime 
jobs they loved, then homes, then vehicles, other temporary shelters they 
managed to find for their families. 
Some mothers lost custody of their children. Using mindful writing as an outlet to communicate those wrenching experiences has been healing and strengthening to those survivors. I see transformations over time in the people I work with. I notice how their writings become more hopeful and their voices more authentic. The blossoming of their hope is infectious. I feel it, too, and am grateful."
It is only through the generosity of our community that InsightLA is able to send teachers like Amy where they are needed most. We have just sent one of our teachers, Traca Gress to Chad to bring mindfulness to people working and living in refugee camps. Traca will return with stories and pictures which we are excited to share in a future blog post. 
None of our Insight in Action work would be possible without the generosity of our donors and supporters. Two InsightLA board members have stepped up to match all donations that come in during our Spring Giving Campaign. That means all donations arriving before May 31 will be matched dollar for dollar. Please consider a one-time donation or become a monthly donor and support this important work throughout the year. Please join us – with your support we can continue our life-changing work.