This class will draw its inspiration from a new book of Enlightenment Poems written by women who lived at the time of the Buddha.
We will use the different descriptions of The Path expressed through poetry and related stories to illuminate how awakening is still available in everyday
life.
Recommended but not required and available at Amazon February 11.
The First Free Women: Poems of the Early Buddhist Nuns by Matty Weingast  (Author), Bhikkhuni Anandabodhi (Foreword) The class will include meditation, guided instructions, teachings from the Buddha and small and large group discussions.
Tuesday mornings and Wednesday evenings at Santa Monica offers continuous series of classes inspired by the Buddha's teachings. Offerings are dedicated to exploring the Buddha's teachings on Ethics, Wise understanding, and meditation.
Please join us if you are interested in deepening your meditation practice and integrating more peace and calm into you daily life.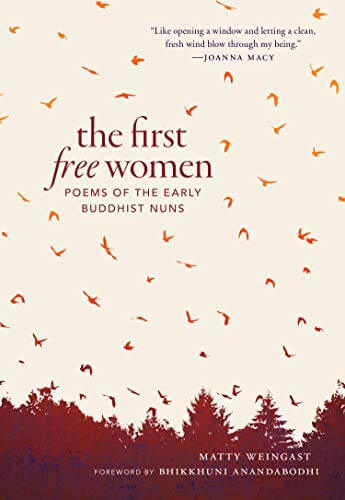 About the book:
A radical and vivid rendering of poetry from the first Buddhist nuns that brings a new immediacy to their voices.
The Therigatha ("Verses of the Elder Nuns") is the oldest collection of known writings from Buddhist women and one of the earliest collections of women's literature in India. Composed during the life of the Buddha, the collection contains verses by early Buddhist nuns detailing everything from their disenchantment with their prescribed roles in society to their struggles on the path to enlightenment to their spiritual realizations. Among the nuns, a range of voices are represented, including former wives, women who lost children, women who gave up their wealth, and a former prostitute.
In The First Free Women, Matty Weingast revives this ancient collection with a contemporary and radical adaptation. In this poetic re-envisioning that remains true to the original essence of each poem, he infuses each verse with vivid language that is not found in other translations. Simple yet profound, the nuance of language highlights the beauty in each poem and resonates with modern readers exploring the struggles, grief, failures, doubts, and ultimately, moments of profound insight of each woman. Weingast breathes fresh life into this ancient collection of poetry, offering readers a rare glimpse of Buddhism through the spiritual literature and poetry of the first female disciples of the Buddha.