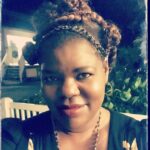 Alicia Tolbert Executive Director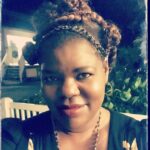 Alicia Tolbert
Executive Director
As the daughter of a civil rights attorney and a New Thought minister, Alicia has had one foot in social justice and the other in spirituality her entire life. She has been studying and then teaching the Buddhist path since 2005 with an emphasis in Refuge, Logic, and Vinaya. 
Prior to coming to Insight LA, she spent two decades in the entertainment industry (Paramount Studios, Netflix), most recently overseeing the NBCUniversal film and TV archive which is a superb way to practice all 10 perfections. She has a BA and an MA from UCLA where she taught French for five years. 
Alicia completed the four-year Buddhist curriculum of the Asian Classics Institute under Lama Sumati Marut, Geshe Michael Roach, and her heart teacher, Lauren Benjamin. Alicia took her Lifetime Lay and Bodhisattva vows from His Holiness the Dalai Lama (along with 12,000 other people) and most recently completed an 18 month Mindfulness course for caregivers.
For fun Alicia loves swing dancing, ocean swimming, and mentoring students. In her spare time she volunteers as a public speaker and hospice trainer for the Alzheimer's Association of Greater LA. 
After so many years studying and teaching, it is Alicia's great honor to be working with the staff, board, and renowned teachers at Insight LA. Her (virtual) door is always open, so please reach out anytime.
Personal motto: All things are possible with the community.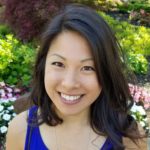 Anisa Charucksiri Director of Retreats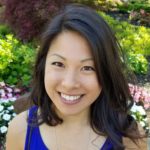 Anisa Charucksiri
Director of Retreats
Anisa helps with programming, event management, community outreach, marketing campaigns, student and teacher relations, and corporate trainings. 
Anisa began her meditation journey when she moved to LA in 2013 which allowed her to establish not only a Youngish Adult sangha (community) in a new city, but also a rooted circle of friends and a fulfilling career path. She has sat 33 nights of silent residential retreat, managed 100+ nights of online silent retreat, completed 100+ hours of floatation therapy, and completed a 200hr and a 75hr Yoga Teacher Training. She previously volunteered at Shambhala Meditation and continues to volunteer for Transcendental Meditation Meditation groups. Born a second generation Thai Buddhist in Washington DC, Anisa lived in Hawaii for 10 years, obtained a BBA from University of Hawaii, and held various Director of Development positions for 10+ years in industries including tourism, restaurant, and wellness.  She has also sat on the board for Hawaii Food Manufacturers Association, United Cerebral Palsy,  Aloha United Way, and her home owners association.
She believes in liberating and empowering others loves the saying, "Give a woman a fish and you feed her for a day; teach a woman to fish (via meditation) and you feed her for a lifetime."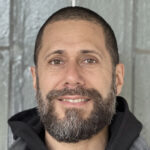 Darin McFadyen Director of Programs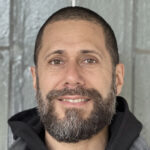 Darin McFadyen
Director of Programs
Darin McFadyen is a Dharma/Yoga practitioner & teacher, husband, business professional, mindfulness consultant, and music producer. He has completed the four-year Buddhist curriculum of the Asian Classics Institute under Lama Sumati Marut in the Gelukpa Tibetan Buddhist tradition, and the three-year 'Mind Illuminated' Samatha Vipassana teacher training under Theravadin meditation master Upasaka Culadasa. He has practiced yoga in the Satyananda tradition and the Kundalini tradition for 25 years. Passionate about combining the most accessible instructions of these systems with secular modalities designed to increase emotional literacy, he teaches with the goal of sparking insights that normalize self-compassion, healthy loving relationships, and the ability to live with integrity while leading a creative life of meaning. 
Darin has been intrigued by the effects of music and sound on the human body and mind since discovering electronic music in his teens.  He has spent much of his life working as a professional in the music and music-technology spaces including touring internationally as a music producer and DJ, and as being on the core team that developed and marketed the 'SubPac' wearable tactile music technology. Over the past 15 years, he has focused on the intersection of music, technology, and meditation.  With his company 'Human Exploratorium' he designs and builds multi-sensory music-based biofeedback experiences for conferences, festivals, and brands around the world  that are designed to make deep present-centered relaxation accessible to participants not trained in meditation.
Darin  is a member of the faculty at The Esalen Institute in California, serves as a member of the Program Advisory Committee (music programs) at The Los Angeles Film School, and served on the board at Inner Way LA meditation center where he led program development, developed and executed fundraising efforts, and served as a volunteer teacher facilitating the weekly all-levels meditation class for eight and a half years.  
Darin is married to Gabriela, lives in Los Angeles, California, and likes to lead high-energy mindful drum circles when he has the time!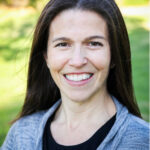 Jen Zelinsky Fractional CFO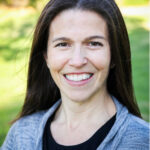 Jen Zelinsky
Fractional CFO
Jen and her team handle all things financial at InsightLA.  She strongly believes that one of our most valuable commodities is time and practices that belief by voraciously exploring new, better, more efficient and time saving technology to give time back to the people she works with.
Jen was guided towards meditation four years ago by a long time friend who spoke of the benefits they experienced from meditation.  Jen embarked on that journey immediately and hasn't looked back.
Jen holds a Bachelor of Science degree in Human Biology from Pitzer College.  She enjoys doing puzzles, volunteering at her childrens' school and spending time with those children and her husband.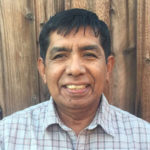 Pepe Rodriguez Facilities Management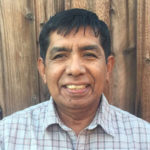 Pepe Rodriguez
Facilities Management
Pepe handles all of the maintenance and upkeep of InsightLA's facilities across multiple locations.
Pepe has also completed InsightLA's facilitator training program in 2018. He loves to share his meditation practice with others. On his spare time, he enjoys studying the writings of early philosophers with a special affinity for Socrates. He is happily married to his wife Maria for more than 20 years.