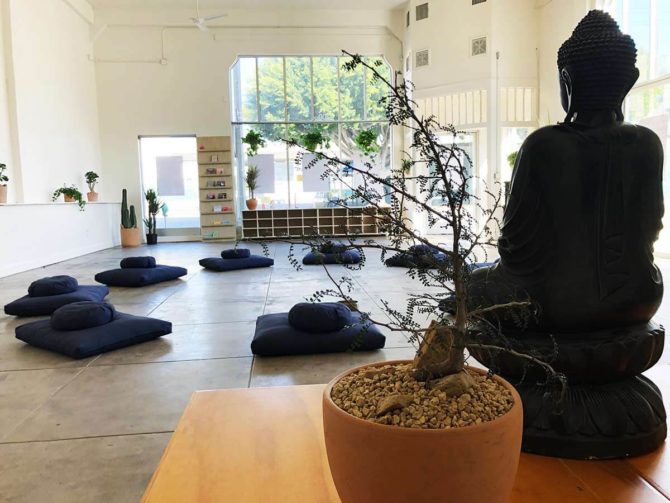 Due to COVID-19, our physical centers will be closed until further notice. 
4300 Melrose Avenue, Los Angeles, CA, 90029 (Map It)
Located in a historic building in East Hollywood. It is on the corner of Melrose and Berendo, near LA City College and Vermont Avenue where you can find many small restaurants, bakeries and shops.
The Center is in an urban environment with on-street parking and you might have to walk a block or two after parking. There are meters on Melrose and the surrounding streets (Heliotrope to the west, and Madison to the East). They have to be fed until 6pm, Monday through Saturday, but are free on Sunday. There is unrestricted parking on Clinton St. which runs parallel to Melrose, one block to the south. Pay attention to all parking signs because there are restrictions on many streets and they differ from block to block, from one side of the street to the other, and at different times of the day.
There are Red Line stops on Vermont at both Beverly and Santa Monica. These are an easy 15-minute walk from the center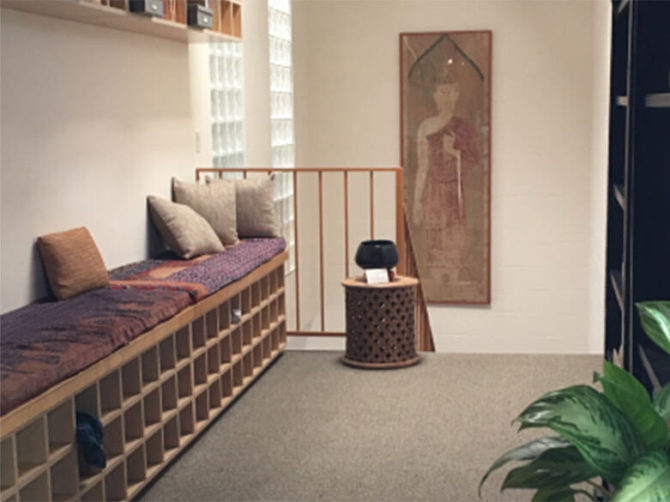 Due to COVID-19, our physical centers will be closed until further notice. 
1430 Olympic Blvd. Santa Monica, CA 90404 (Map It)
Parking is metered every day except Sunday. Limited non-metered parking is found on 14th Street south of Olympic Blvd.
*This site is handicap accessible with a powered chair lift on site.  If you need access to the chairlift, please call 310-450-1821 or email programs@insightla.org so that someone can be available to open the gate and operate the lift when you arrive.  The lift is behind a gate in the parking lot.  If you can't inform someone in advance of the event, please ask a caretaker to go up to the studio and request assistance from a staff person or teacher who can open the gate and operate the chairlift.  Thank you!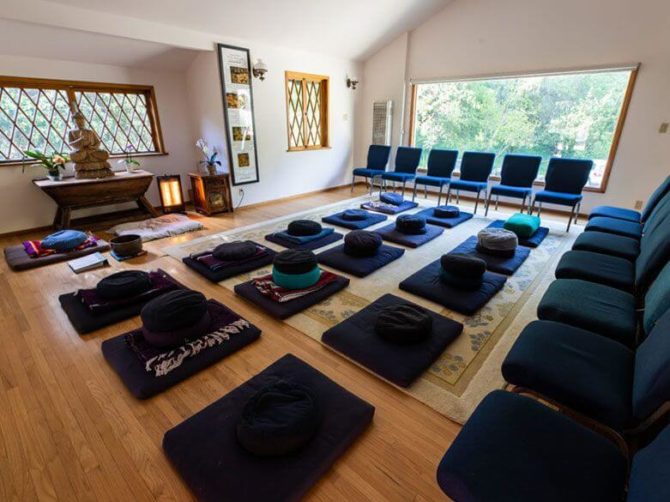 Due to COVID-19, our physical centers will be closed until further notice. 
9940 Westwanda Dr. Beverly Hills, CA 90210  Map It
Location Notes:  You will be turning on to Westwanda Dr. from Benedict Canyon Dr.  In 0.1 mile you'll arrive at 9940 Westwanda Dr. and you will see an InsightLA wooden sign pointing up the graveled driveway that leads up a hill.  Follow the driveway up to the top of the hill and park at the top on your left.  Please pull in as far as you can, as some cars will need to be double parked.  If you arrive and don't see spots available on your left, you can drive straight past the gate entrance and park on the left after the sheds.  Please park as far back as possible so that more cars can fill in behind you.
Please do not block the garage of the house or block the driveway that leads to the road.
Parking is limited so carpooling is encouraged or using a ride share service to get dropped off.
Entrance:  You will enter the house via the winding stone stairway closest to the garage.  You'll see an InsightLA sign pointing up the staircase to the entrance.  At the top of the stairs on your left, there is an area with cubbies to leave your shoes.
Food:  Please bring your own snacks and lunch to eat during a break, as there are no places to eat near the house. There is a fridge to store your food and a microwave and toaster available for heating.
What to bring:  You may wish to dress in layers and bring a blanket or shawl for your own comfort.  Meditation cushions and chairs are available at the retreat house, or you're welcome to bring your own.  Please wear socks as you'll be removing your shoes at the door.  Please bring a reusable water bottle or sealed mug, as complimentary water and tea will be available.
Cell reception:  Most cell phone carriers won't have reception at this house.  You are welcome to use the landline should you need it:  424.302.0109.  There is free wi-fi available as well.
Accessibility:  This location is not wheelchair accessible.  There is a flight of stairs up to the entrance of the building.