Afrikan Wisdom and Healing  presents  Yeye Luisah Teish the author of Jambalaya: The Natural Woman's Book of Personal Charms and Practical Rituals.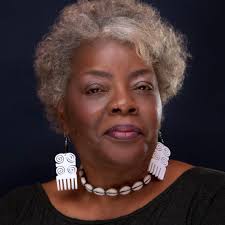 Yeye Teish is an elder and chief (Iyanifa)of the Goddess  Oshun and a celebrated healer, storyteller, and spiritual guidance counselor.
Bring:
A candle
A glass of water
A hand mirror
A bell or rattle
Blessed oil
---
This is for people with one or more parents or grandparents from the Black African Diaspora and who self-identifies as Black and/or mixed heritage.
This group is to welcome healing around our internalized racial oppression within our communities and to nurture the wisdom and gifts we have to share among us. Be comfortable in your skin. Bring your Medicine, your voice, your dance, your sage.
Join us every last Sunday of the month from 9-11am PT.
We welcome all genders and sexualities.
______________________________________________
Please give according to your income.
Suggested Donation: $0.  $15. $30.  $50. $75.  $100