The pandemic is offering each of us the opportunity to take our mindfulness practices for a test drive daily, often multiple times. Even in the pre-pandemic era, we were overwhelmed, distracted and often depleted. Now it's "more so." While we can't control world events, nor others, we can control how we choose to respond to what's happening around us by being present for and accepting what already is. In my book, The Gift of Presence: A Mindfulness Guide for Women, I explore how presence or mindful awareness can be infused into more and more moments of our days through the 3 Ps of Purpose, Pivoting and Pacing.
Purpose is what matters most to us and provides direction to our lives. Its research-proven benefits for our well-being are so extensive that if it were a medication we would call it a miracle drug. Pivoting gives us the freedom and courage to make personal and professional changes when needed. Pacing reminds us that we need not do it all, all at once.
Give yourself the gift of presence by attending this event and taking the time to reflect upon your Purpose, and whether or not your life is aligned with it right now. We will explore how Pivoting and Pacing can support us in being resilient even during these especially uncertain times.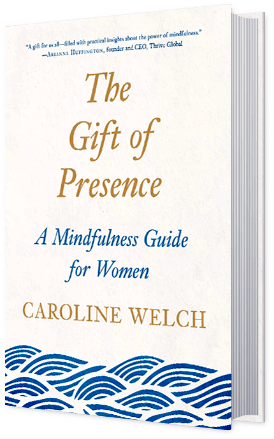 About Caroline Welch:
Caroline Welch is CEO and Co-founder, with Dr. Dan Siegel, of the Mindsight Institute in Santa Monica, California. She offers lectures and workshops to enhance well-being in our personal and professional lives. Caroline began her mindfulness practice forty years ago while working in Japan.
Caroline's first book, The Gift of Presence: A Mindfulness Guide for Women, is now available for purchase. 
Born on a working dairy farm, Caroline's first trip out of Darien, Wisconsin was to Shiraz, Iran on a high school exchange program. That was the beginning of her love of travel and exploration which has included climbing Mount Kenya, teaching English in Japan for three years, and backpacking through 25 different countries.
A graduate of the University of Wisconsin Law School, with a master's degree from the University of Southern California, Caroline started her legal career as a corporate litigator. She has served as a Los Angeles County court appointed mediator, and as in-house counsel at Spelling Entertainment Group and MGM Studios.
Caroline is an avid watercolorist. She and her husband, Dan, live in Santa Monica with their dog, Charlie, and have two adult children.
__________________________________________________________
This event will be recorded and emailed to everyone who registers.
We're currently offering this class for free to COVID-19 healthcare/service workers. Please email support@insightla.org for more information at least 24 hours before the event starts.