Life is challenging for everybody. But for people who suffer from chronic pain it brings "challenging" to a whole new level.
Chronic pain is not only experienced on a physical level but also by how we think and feel about it. Many people report that their pain increases with rising stress levels, which right now, with COVID-19 and everything else that is going on in the world is at a record high. Mindfulness and compassion practices help to address both aspects: We learn to work with our feelings and emotions and also lower our stress levels in general.
Mindfulness is an intentional connection with the present moment that changes how we relate to ourselves, others, and the world. A dedicated mindfulness practice cultivates compassion, inclining us to treat ourselves and one another with greater kindness. Emerging research demonstrates that mindfulness and compassion practice remodels the brain's physical structure in ways that build resilience and support well-being and influences pain levels in a positive way.
Join Dr. Wolf, for a deep dive into the possibility of changing your pain forever.
This 4-week class is appropriate for people new to meditation, as well as experienced meditators who want to learn exact steps to apply their knowledge to physical pain.
Through clear and insightful instruction and dialogue, you'll cultivate the ability to:
Reconnect and befriend your body in a new way
See how the past and the anticipated future make the pain worse and how to change that
Inviting more pleasant and joyful moments into your life, regardless of the pain levels
Work with anxious, stressful or persistent thoughts
Be friendly towards yourself – and your body
Stay open and steady in the face of intense experiences
Implement a sustained daily practice that works with your life
You'll leave with powerful tools for everyday life and clear instructions on how to move forward from here.
Schedule (6:30-8pm PT):
June 24th
July 1st
July 8th
July 15th
Recommended Reading: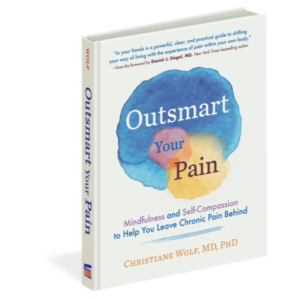 "A brilliant guide for transforming our relationship with pain. Step by step, we learn to meet difficult experience with mindfulness, curiosity, and kindness."
Tara Brach, PhD
"Brilliant in its simplicity and effectiveness, Dr. Wolf offers us truly healing and revolutionary medicine. Try it!"
Jack Kornfield, PhD
"A fantastic book, bringing together the kindness and depth of a meditation teacher with the science and tools of an experienced physician."
Rick Hanson, PhD
***If you're unable to attend the live class series, or miss a class, you can still purchase the series. We will email you links to each class for you to watch at your convenience (or re-watch.) Videos will never expire.