Are you an educator, activist, first responder, or community member with a story you want to tell about this pandemic and/or these fraught times but don't know where to start? Want to document this historic moment but feeling overwhelmed? Does your teaching, activism, medical/social service, or civic participation both inspire you and eat up potential creative/writing time?
Writing your story can transform your life and maybe even the world. Yet committing yourself to writing—just like committing to social engagement or spiritual practice— takes time and faith. This workshop blends guided meditation, writing prompts, short reading and class discussion to re-inspire and renew those on the front lines who need both.
New writers will leave with a notebook full of story-buds and a plan; experienced writers can apply these techniques to revisions or book blueprinting.
Bring a notebook/pen in addition to your laptop/tablet for in-class assignments.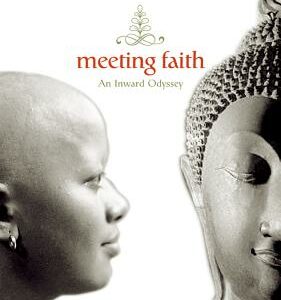 "Adiele has a comic's timing, a novelist's keen observations about human idiosyncrasies and an anthropologist's sensitivity to issues of race and culture."
Click here to buy the book.
Bio:
Meeting Faith, Faith Adiele's memoir about leaving Harvard to become Thailand's first Black Buddhist nun, won a PEN Award and routinely makes best travel writing lists. She also writes for the meditation app Calm, as well as for A World of Calm, a series co-produced by Calm and HBO, with narration from Idris Elba, Kate Winslet, Mahershala Ali, Lucy Liu and others. Faith has lived in West Africa and Southeast Asia, worked as a diversity trainer and community activist, and taught travel writing and memoir from Bali to Ghana to Switzerland, including at Esalen with Cheryl Strayed and The Open Center NYC, where she was recently in conversation with Julia Cameron of The Artists' Way about mindful listening and creativity. She is Associate Professor of Creative Nonfiction at California College of the Arts and the Stonecoast Low-Residency MFA Program. 
Website: www.adiele.com
Twitter: @meetingfaith
Instagram: @meetingfaith
_____________________
This event will be recorded and emailed to everyone who registers.