At InsightLA we offer both Buddhist teachings and secular mindfulness training. You do not have to be a Buddhist to attend any of our programs at InsightLA, even the Buddhist ones. Mindfulness and Meditation are ways of getting to know yourself better and learning to take responsibility for what you find, so that you can learn how to be a happier, more fulfilled person. Mindfulness is comprised mainly of nonreligious mental and emotional exercises that promote good mental health. In fact, Buddhism talks about meditation (and even ethics) as being forms of "training." We train the mind so that it begins to cause us less unhappiness.
Meet our Teachers Calendar Frequently Asked Questions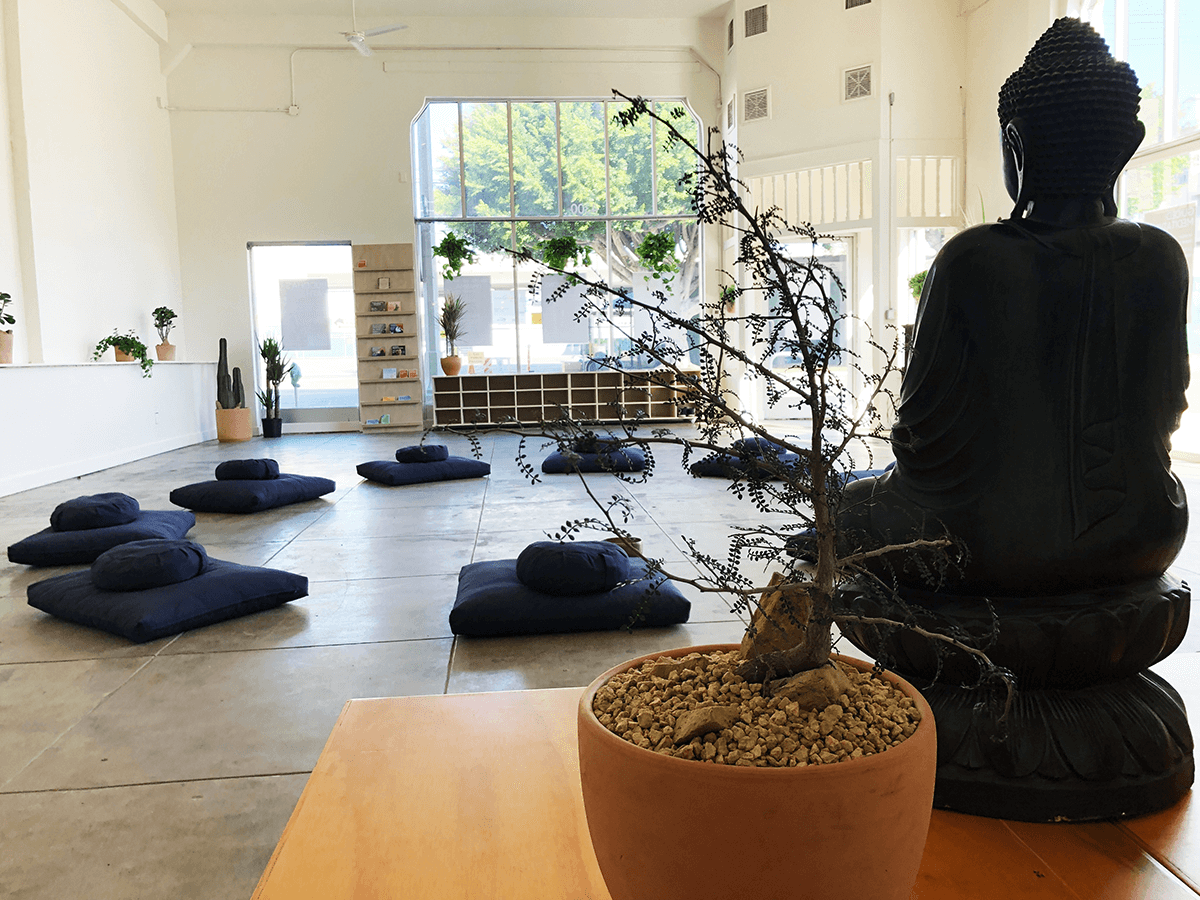 Helpful things to know before you arrive
You want to take a class:
If you want to take a class please sign up on the website. You can pay securely online with a credit card or debit card.
InsightLA has a policy of not turning anyone away for lack of funds because we firmly believe that the benefits of meditation should be available to everyone. We offer meditation classes at a reduced rate or free of charge to those individuals who otherwise would not be able to pay for the benefits of a meditation class with one of our highly trained teachers. We are a non-profit organization and the revenue we receive from classes does not cover all of our costs. If you are able, please offer a tax-deductible donation above the price of the class. This will allow us to share the benefits of meditation and mindfulness practices with many others. If you have a genuine need for a reduction in fees, a payment plan, or a scholarship, please contact us at programs@insighla.org to speak with someone on our office team.
We always accept walk-ins if the class still has space.
You are interested in a practice group/sitting group:
A sitting group is a gathering of people with varying levels of experience in meditation. In our typical sitting group, you will find people who are meditating for the first time, people who have taken a class but are still beginning students, people who are intermediate students, and people who have been meditating for many years. Some students at sitting groups have been coming to the gathering for many years, while others at a sitting group are experiencing InsightLA for the first time. Everyone is welcome.
If you are interested in the sitting group, please just show up. If you plan to attend the group regularly, it's good to sign up for the email roster. You can do that on the webpage for that group.
Sitting groups are offered on a suggested donation basis. Please pay at the highest level you are able to. We all have moments when we are able to give more, and moments when we are grateful to receive. We welcome you at all those moments. When you come to a sitting group, you will see a bowl with the sign "dana." Dana means generosity or giving, and this is where you put any donation you would like to offer for the sitting group. Unlike our classes and events, teachers at sitting groups do not receive a fee for teaching. Dana compensates our teachers for their valuable guidance and helps ensure our centers continue to provide these teachings across our city. We are grateful for your offering, whether in cash, a check (made out to InsightLA) or with your credit card information on one of the provided cards, sealed in a provided envelope. Your tax-deductible donation will help people throughout Los Angeles receive the benefits of meditation and mindfulness training.
At your first visit
First class or practice group:
Just come in. There will usually be a person greeting new students.
Fragrances:
In consideration of all participants but particularly those with sensitivities or allergies please do not wear scented personal care products (like perfume and cologne), including "natural" products and essential oils at InsightLA. We do not burn incense at InsightLA.
Shoes:
Please leave your street shoes in the cubbies provided outside the classroom. You're welcome to bring indoor shoes or slippers, but most wear socks or go barefoot.
Purses and Bags:
It's safer to bring valuables into the hall with you. We ask that you leave bulkier items outside in the lobby.
Water and teas:
We provide filtered water and teas. You can also bring your reusable water bottle and thermal mug to fill.
Bathrooms:
All bathrooms at InsightLA Meditation are gender neutral. 
Chairs and meditation cushions:
We provide chairs, meditation mats, and cushions. You can sit where you will be most comfortable, or bring your own cushion or meditation bench if you wish. It's also fine to stand up or lie down on a mat if you are more comfortable.
Sitting posture:
You'll notice everyone sitting still during meditation. It's fine to relax and adjust your posture as needed. You can ask your teacher to help you with learning to sit comfortably. It is a part of the practice that we learn over time. If you feel the need to move, and then shift quietly. It is also fine to stand up during a meditation or a class and to use the bathroom as needed.
Running late for class:
If you are running late for a class, please come in quietly. We all know life and traffic happen! We trust that you will do your best to be on time.
Practice group donations:
In the Buddhist tradition, the teachings are considered so precious as to be priceless. Thus they are given freely, with the opportunity to offer voluntary donations, or dana. The very act of giving benefits the person who gives, for it opens the heart, lessens self-absorption, and serves the well being of others. We're grateful for your offering, whether in cash, a check (made out to InsightLA) or with your credit card info on one of the provided cards, sealed in a provided envelope.

Agreements for Community Interactions
Adapted from Visions Inc., "Guidelines for Productive Work Sessions"
TRY IT ON: Be willing to "try on" new ideas, or ways of doing things 
that might not be what you prefer or are familiar with.
PRACTICE SELF FOCUS: Attend to and speak about your own experiences 
and responses. Do not speak for a whole group or express assumptions 
about the experience of others.
UNDERSTAND THE DIFFERENCE BETWEEN INTENT AND IMPACT: 

Try to understand and acknowledge impact. Denying the impact of something said 
by focusing on intent is often more destructive than the initial interaction.
PRACTICE "BOTH / AND": When speaking, substitute "and" for "but." 
This practice acknowledges and honors multiple realities.
REFRAIN FROM BLAMING OR SHAMING SELF & OTHERS: 
Practice giving skillful feedback.
MOVE UP / MOVE BACK: Encourage full participation by all present. 
Take note of who is speaking and who is not. If you tend to speak often, 
consider "moving back" and vice versa.
PRACTICE MINDFUL LISTENING: Try to avoid planning what you'll say 
as you listen to others. Be willing to be surprised, to learn something new. 
Listen with your whole self.
CONFIDENTIALITY: Take home learnings but don't identify anyone 
other than yourself, now or later. If you want to follow up with anyone regarding something they said in this session, ask first and respect their wishes.
RIGHT TO PASS: You can say "I pass" if you don't wish to speak.
Our social justice work
Find out more about the social justice work we are doing both locally and globally by clicking  here.
Please be in touch
Please don't hesitate to be in touch (click here to contact us) with any questions. We are happy to hear from you.