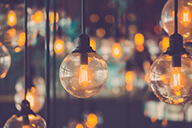 Science is catching up with the Buddha!
Neuroscientists are reporting confirmation of interdependence, selflessness and the holographic field of consciousness. This past weekend Trudy and I presented at the UCLA conference on Mind, Consciousness, and The Cultivation of Well Being along with 700 participants and a stellar faculty. Scientists like Elissa Epel showed how our cells and telomeres are listening to how we feel, responding to the whole environment and the society around us. Quantum physicists, cosmologists, and researchers like Menas Kafatos, Deepak Chopra and Dan Siegel described the field of Mind beyond the brain and how we live in probability, nonlocality, and entanglement—a play of form and emptiness.
I think of the 12-sided pavilion built by a Buddhist master for the ancient emperor of China, to demonstrate this. With mirrors on the walls and floors he suspended one candle and small crystal in the middle. As the Emperor looked into one tiny facet of the crystal he could see thousands of candle flames reflected into infinity in the mirrors. The smallest part contains and affects the whole.
What this means is that as you practice and illuminate your own heart and mind, you create healthy neural and epigenetic patterns and enhance your telomeres….and you positively affect the entire field of life around you. You know this already, but having science show it is like a cherry on top.
Here's the best thing. These marvelous trainings in mindfulness and compassion are available for you year-round at InsightLA. Please come join in and let us practice together.
Metta, Jack