Spend a day in retreat with meditation expert, world-renowned teacher and best-selling author Sharon Salzberg. 
On Saturday, June 24 join Sharon online for meditation practices, Q&A sessions and teachings drawn from the subject of her latest book, Real Life: The Journey from Isolation to Openness and Freedom.
Getting Real
In her latest book, Real Life, Sharon Salzberg draws on 40+ years of experience in the Buddhist tradition to help readers navigate the cyclical, uncertain nature of life with greater clarity and compassion.
By applying contemplative tools, we can learn to live more fearlessly, moving from constriction and isolation to a more spacious place of possibility, creativity, connection, and joy.
Who is this retreat for?
This single-day retreat is for anyone who is ready to uncover a deeper sense of themselves, and expand their vision of what's possible. Guided meditations and talks are suitable for all levels of practitioners, including those who have never meditated before.  
Expect guided meditation practices, talks and Q&A sessions with short breaks between each. There will be a lunch break around 12-1pm pacific time.
Where is this event located? 
This is an online event. Join us LIVE on Zoom from the comfort of your own home. The event recording will be made available to everyone who registers.
About Sharon Salzberg
Sharon Salzberg is a pioneer in the field of meditation, a world-renowned teacher and New York Times bestselling author. She has played a pivotal role in bringing meditation and mindfulness into mainstream American culture since 1974. Sharon is co-founder of The Insight Meditation Society, in Barre, MA and has authored 12 books. Her most recent is Real Life; The Journey from Isolation to Openness and Freedom. Past titles include Real Happiness, Lovingkindness, Real Love: The Art of Mindful Connection, and Real Change.
Acclaimed for her down-to-earth and relatable teaching style, Sharon offers a secular, modern approach to Buddhist teachings, making them instantly accessible. In addition to teaching meditation worldwide, Sharon is the host of her own podcast, The Metta Hour. Over 100+ episodes feature interviews with the top leaders and voices in the meditation and mindfulness movement. Learn more about Sharon here and at sharonsalzberg.com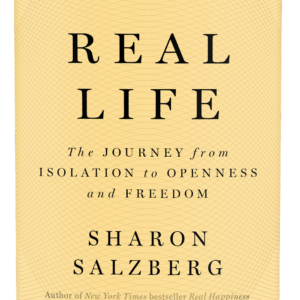 Available now in hardcover, ebook & audiobook.
Order your copy today!
________________________
"Sharon is a master at helping us get over ourselves and get out of our heads—so that we can do hard things and generally do life better. This book will help you shed old, unhelpful patterns and escape what David Foster Wallace once called 'the skull-sized kingdom." —Dan Harris, author of 10% Happier
"Sharon Salzberg is, to me, a perfect Buddhist teacher, who manages to guide us gently and entertainingly towards peace, awakening, and lovingkindness." —Anne Lamott, author of Bird by Bird
"Sharon Salzberg writes from a place filled with love and simplicity. With Real Life, she gives profoundly effective advice about emerging from the dark corners where we find ourselves. Her insights are life-changing." —Mary Louis-Parker, star of Weeds and The West Wing