The event will consist of meditation practices, talks, and Q&A. There will be a lunch break around 12-1pm PT and a few short breaks.
Sharon Salzberg is a pioneer in the field of meditation, a world-renowned teacher and New York Times bestselling author. She has played a pivotal role bringing meditation and mindfulness into mainstream American culture since 1974. Sharon is co-founder of The Insight Meditation Society, in Barre, MA and has authored 12 books, including her most recent, Real Life; The Journey from Isolation to Openness and Freedom, published by Flatiron, the New York Times bestseller, Real Happiness, Lovingkindness, Real Love: The Art of Mindful Connection, and Real Change.
Acclaimed for her down-to-earth and relatable teaching style, Sharon offers a secular, modern approach to Buddhist teachings, making them instantly accessible.  Sharon is also the host of her own podcast, The Metta Hour, with 100+ episodes featuring interviews with the top leaders and voices in the meditation and mindfulness movement. Learn more at www.sharonsalzberg.com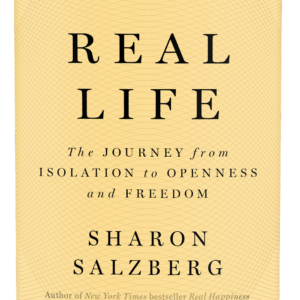 Available on April 11, 2023 in hardcover, ebook & audiobook.
Pre-Order your copy for free guided meditations!
________________________
This event will be recorded and emailed to everyone who registers.