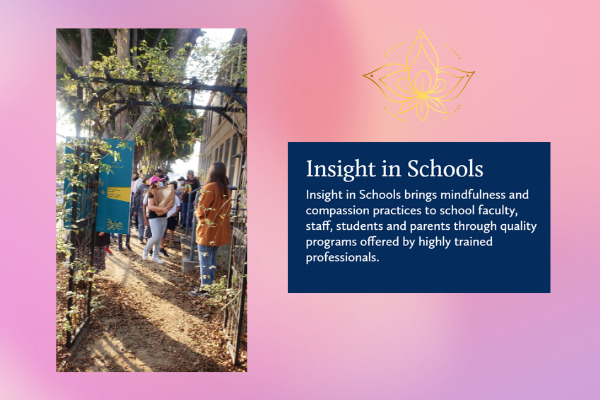 My name is Stephanie Miranda, Community Outreach Coordinator for Insight in Schools, connecting principals and school faculty with our services. This work has been so important in providing educators with the necessary tools to have success in their classrooms. It is a pleasure connecting our wonderful ILA teachers to a community who otherwise would not have access to mindfulness meditation.
Insight in Schools brings mindfulness and compassion practices to school faculty, staff, students, and parents in quality programs offered by highly trained professionals. We exist to close barriers across sectors in our education systems.
Using a revolving fund system narrows the gap between schools that can afford to pay and those that cannot. We aim to disrupt the school-to-prison pipeline, generational poverty, and all forms of inequity by sharing practices that enhance self awareness, kindness, and resilience, and that celebrate the unique experiences of individuals and communities who are often unseen and undervalued. Our school programs bring mindfulness and compassion practices to teachers and students in the greater Los Angeles area, primarily focusing on those in marginalized communities.
Led by experienced school and mindfulness teachers, we offer comprehensive and customized programs that are:
● Inclusive and integrated for the entire network supporting students, including faculty, staff, and parents 
● Trauma and resilience informed 
● Culturally sensitive
● Social-justice oriented
● Aligned with CASEL (CA state Social-Emotional Learning) standards
● Flexible, responding to Covid-19 by being available online and in person
Research shows that students who have had mindfulness training in schools demonstrate: ​​​​​​​
● Improved focus and concentration
● Improved impulse control and self awareness
● Increased sense of calm and skillful response to difficult emotions
● Increased empathy and understanding of others