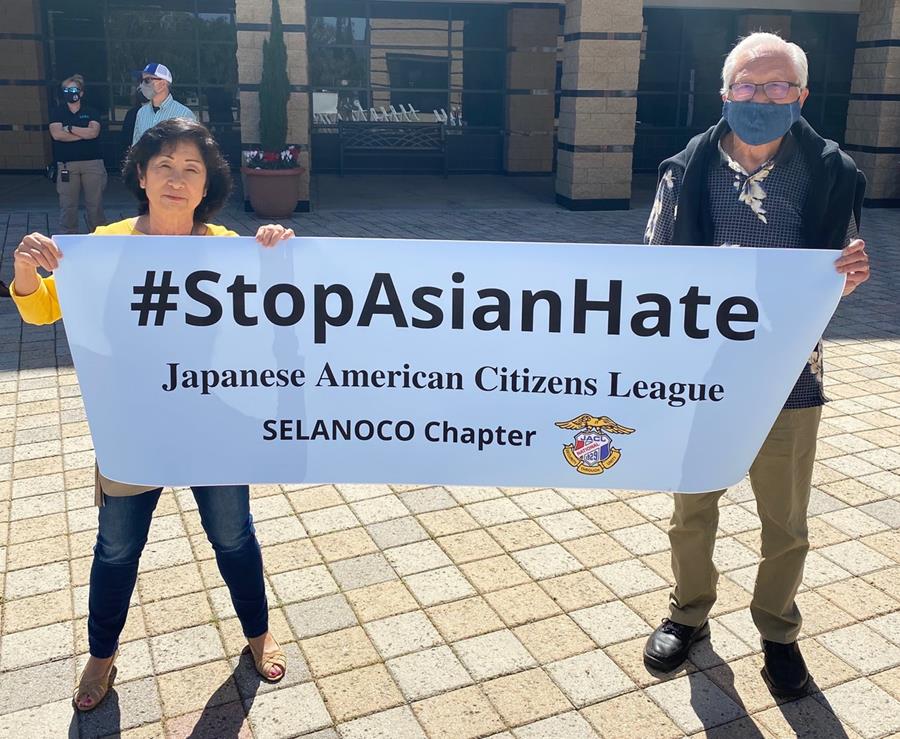 Akemi's parents, BJ and Ron, at a #StopAsianHate rally in Irvine yesterday.
As I hear about the horrific murders of Asian American women at Atlanta massage spas this week, the latest in a string of over 3,795 reported anti-Asian hate incidents this past year, I first take a deep breath and offer myself some loving-kindness – as I hope all of you do during these painful times. 
And then I think about my dad. 
He was six when the US government forced him, his family, and every other Japanese American on the West Coast into incarceration camps during WWII, for looking like the "enemy". For him, anti-Asian sentiment is nothing new. It's foundational. 
I think about how Japanese Buddhist priests in Honolulu were the first to be rounded up by the FBI after Pearl Harbor; how Buddhist temples had been under surveillance for years prior. And how long before Jack, Sharon and Joseph brought the dharma to the US, Japanese Americans had been building sanghas at Buddhist churches – yes, churches and not temples because of the pressure to assimilate – to hold each other through racism and ultimately thrive together. This is the kind of Buddhist church I was raised in, and the reason I believe in the power of community.     
The rise in anti-Asian hate crimes is the same story of white supremacy that has been wrecking violence on Black and Brown lives since this country's founding. How do we use the lessons of the past to write a new story, rooted in love rather than fear and hate? 
The dharma teaches us to look inward. When you think about the history of Buddhism in the US, do you think about Asian American Buddhist history? Asian Americans make up two-thirds of practicing Buddhists in the US, yet how many Asian American dharma teachers can you name? Why do you think that is? 
These are gentle inquiries, meant to stir reflection on how Asian Americans continue to be invisibilized within US society, even in our Buddhist spaces. As folks benefitting from the priceless gifts of Asian/Eastern traditions, how can we honor and stand in solidarity with the communities from whose ancestors our practice comes from? What can we humbly learn from these communities, knowing that the mud of collective struggle blossoms into the most beautiful of lotuses? 
Through these times of great suffering, together we will bloom, too. 
With metta,
Akemi Osajima 
InsightLA I Community Relations Manager 
PS: As we've shared, InsightLA is starting to look inward too as an organization, to discover the ways in which white supremacy culture has shaped our beliefs, values and actions. I am proud to be part of a community that's doing the brave work of decolonizing our hearts and minds to become a place of safety and refuge for all. More updates on this work coming soon, dear sangha. 
To learn more about the invisibilized history of Asian Americans within Western Buddhism: