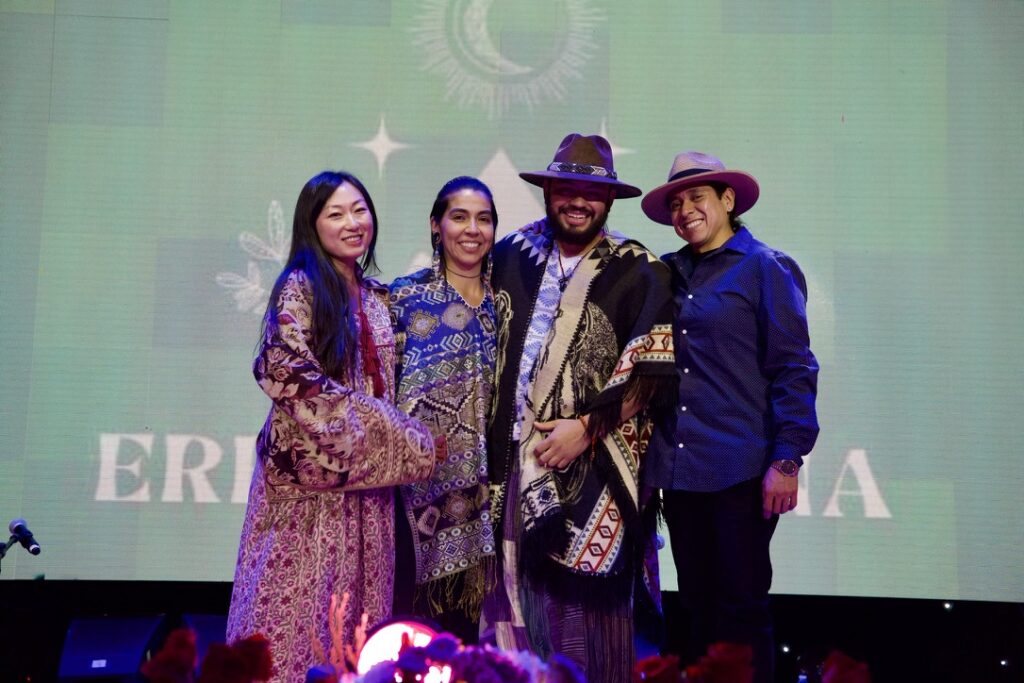 In celebration of Earth Day, all are invited to Floreciendo con Pachamama– or "Blooming with Pachamama (International Mother Earth Day)" a special bi-lingual, half day retreat at Benedict Canyon Retreat House with meditation & music led by Rosamaría Segura that includes a Meditative Concert featuring Andean Music and Tibetan Singing Bowls performed by the musical ensemble Eres Medicina. We took a few moments to sit down for an interview with the members of Eres Medicina: Rosalina Rosales, Nicki Wong, Enrique Marin, and Robert Reyna. Read on to learn more about the band, their music, meditation and more!
---
Please introduce yourself. 
We are Eres Medicina. We are Rosalina Rosales, Nicki Wong, Enrique Marin, and Robert Reyna. 
Tell me how you came to dedicate your time to support individuals through healing sounds? 
Robert: I myself attended a sound bath and had my own revolutionary moment that connected me to my soul. So I decided to learn about the different frequencies and vibrations and how they affect the human body. Allowing you to heal and make you more aware. To connect with the soul, body and mind through sound and vibrations.
Nicki: I experienced the profound healing power of sound and music through my experiences in the plant medicine world and being touched to my core by music and prayer that drew me to tears of gratitude. I started to understand the intuitive sense of playing with sound frequencies and vibrations through deep listening and emptying of oneself to create space for what's needed to come through. 
Rosalina: When I first experienced a sound bath, I felt my entire being be one with the sound vibrations. The energy I felt moving through me, through my body, allowed me to experience a sense of peace and a state of equilibrium, something I never experienced before with sound. From there on, I became highly curious to learn about sound healing, and what I call "its magic", and little by little started to share sound baths and music with the community.
Enrique: I have always been fond of music since I was a teenager. I played different instruments growing up, playing in different bands, and I always had a strong passion for sharing music with people. When I experienced a sound bath and started to learn about healing sounds I was blown away. There's something really special about sound baths, that sometimes words can't describe. Every time I get to play music and/or offer a sound bath, it warms my heart to see the community in a space of peace and joy, for me that's priceless.
What connects you to nature? 
Robert: Mother earth, to connect to all living things and help others. Spread love and kindness, just like the trees they provide us oxygen as we inhale and as we exhale carbon dioxide we provide for the trees. Circle of life.
Nicki: Nature is a part of us. Even though we live sometimes hectic lives, we can take a moment to connect with our breath, our sensations, feeling the weight of gravity holding us to the ground and feel that sense of rootedness. We can draw our eyes upwards towards the sky and see the trees and small movements of the leaves as they sway in the wind. All these practices connect me with nature when I can't physically be outside. 
Rosalina: Growing up with my abuelita (my grandmother) and seeing her work with several herbal/plant remedies, allowed me to understand from a young age that we are nature and nature is us, always one.
Enrique: Nature has always been very healing for me. It's all around us all the time really, and in us.
What has inspired the collaboration between Insight LA/ Rosamaria and Eres Medicina?
Group: Nicki worked with Rosamaria through Insight In Action doing mindfulness and sound baths and when Eres Medicine had a sound bath event in December 2022, Rosamaria was able to witness the band in action and it moved her to invite us to collaborate with her, so that's how our event Floreciendo Con Pachamama was born! 
What could be expected for the April 22nd Earth Day Retreat? 
Group: During the retreat, we will offer a silent meditation to ground ourselves and start our day together. There will also be a guided mindfulness meditation and a mindful nature walk led by Rosamaria. There will be a designated time for a community altar building, an offering for Mother Earth. We will have a mindful eating break for the community as well. Eres Medicina will then offer a sound bath and medicine music. 
Towards the end we will have an integration circle, a time to reflect and share about the experience.
What preparation tips would you give for individuals that choose to attend? 
Group: We welcome everyone to come in comfort and ease as we will do a little mindful nature walk, please come in weather friendly items. We will provide everything as far as meditation cushions, mats, etc. However, bringing a lunch, water and snack would be ideal as we will have time for a mindful eating break. You're welcome to bring anything that would feel supportive to you such as a journal, talisman, crystal, or small offering for Mother Earth. 
What are you most looking forward to for the event?
Group: Connecting with the community and sharing with them! Sound and music in nature!
Anything you would like to add?
Group: We will have signs at the bottom of the hill to indicate the driveway up to InsightLA, if it is your first time, please look out for those. If anyone has any questions or trouble finding the location you can call Rosalina at 424-209-5568. See you there!