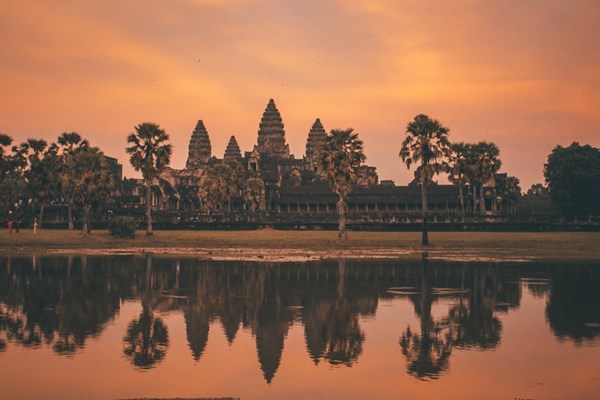 For generations, Khmer Buddhists in Cambodia and in global diaspora (including right here in Long Beach) have nourished musical practices that allow for healing in the wake of loss. The canonical Pali chant for recognizing that this life is short—that all compounded things (sankhara) are impermanent (anicca)—has inspired a variety of Buddhist songs for mourning and healing in Khmer. The original Pali verse, found in the Digha Nikaya and elsewhere in the Pali Tipitaka, cuts straight to the pith:
Impermanent, alas, are all conditioned things.
They have the nature to arise and pass away.
Having arisen, they disappear.
Their complete stilling is bliss.
The first step toward healing on the long road to bliss is to recognize the truth of impermanence. Everything changes; we're bound to lose the things we cherish, and death awaits all in the end. Cambodians have long recognized this truth by making this verse the climax of all Buddhist rituals performed on behalf of the deceased. A monk or nun, reciting this verse in Pali (anicca vata sankhara…), slowly removes a white shroud (Khmer bangsokol, Pali pamsukula) from the corpse, shedding the old skin of this life for rebirth into another.
Him Sophy's landmark musical composition, Bangsokol: A Requiem for Cambodia, is grounded in this ubiquitous Khmer ritual. Commissioned by Cambodian Living Arts and performed so far in Melbourne, New York, Boston, Paris, and Phnom Penh, Bangsokol is the first major symphonic work to speak to the horrors of the Khmer Rouge period (1975–1979), when nearly two million Cambodians perished. Born in Cambodia and educated in Moscow, Dr. Him Sophy brought his full creative gifts to Bangsokol, crafting a searing score that combines a range of traditional Khmer instrumental and vocal styles with a Western chorus and orchestra. Acclaimed Khmer filmmaker Rithy Panh created a triptych media projection that blends together scenes from the 1970s with surreal imagery that grounds the live performance of Bangsokol in Cambodian soil, sentiment, and history.
The textual core of Bangsokol lies in the bangsokol rite itself, including the Khmer and Pali liturgical texts that Cambodians often recite in conjunction with the core verse on impermanence. My involvement with Bangsokol began when Sophy asked me to weave together these traditional chants into a libretto to structure his musical work. I am trained as a scholar of Southeast Asian Buddhist music, literature, and manuscripts, and my goal in compiling a libretto was to give voice to the myriad ways Cambodians have sought refuge in Buddhist rituals to heal the wounds of the Khmer Rouge era. There was nothing special I needed to add or invent—the necessary medicine was already present in what Cambodian Buddhists had been doing all along.
One of the Khmer-language songs I excerpted for inclusion in Bangsokol is a vernacular expansion of the original Pali stanza on impermanence. This text comes from the "Dharma song" (thoa bot) genre, also known as smot in Khmer—an exceptionally slow, expressive, and melodic form of chant, in which a single stanza might take three minutes to recite. The first stanza, beginning with the Pali/Khmer phrase anicca sankhara, unravels the bitter truth of transience:
This life is short: you are born
with bodily form that can't last.
You'll never be free or get past
the shadow cast by distress.
Deeper into the text, in a portion that Sophy has set to his own, uniquely haunting melody in Bangsokol, we are invited to contemplate the chilling reality of what might happen to our bodies after death:
Discarded deep in the forest,
with none to trust as your own,
save wild beasts who grunt and groan,
you'll be alone, through and through.
Your wealth, the worst poverty:
you can't take anything with you.
You'll lie there, nothing to do,
your body truly worthless.
All merit gone in your wake,
your kin will take your carcass
to woodlands cloaked in darkness.
They'll leave, tearless; there you'll stay.
The dead must be abandoned,
their bones and flesh thrown away.
Your body's bound to decay;
your name, they say, soon unsaid.
The translations glimpsed here—which appear in full in my forthcoming book for Shambhala Publications, Until Nirvana's Time: Buddhist Songs from Cambodia—can capture only a sliver of the beauty and terror found in the original Khmer. Complex, interlocking rhyme patterns, replicated in my English rendering above, allow Cambodian vocalists to easily lift these verses into stirring, soaring melodies. As my root Dharma song teachers, Prum Ut and Koet Ran, often reminded me, the purpose of these chants is to shake us out of our complacency, open our hearts to life and death, and make space for healing and release. This, too, is a path to peace, long tended to by our Cambodian siblings and elders in the Dharma.
Trent Walker, PhD, researches and teaches about Southeast Asian Buddhism, literature, and music. He is the Ho Center for Buddhist Studies Postdoctoral Fellow and a lecturer in Religious Studies at Stanford University. Learn more about his work here.