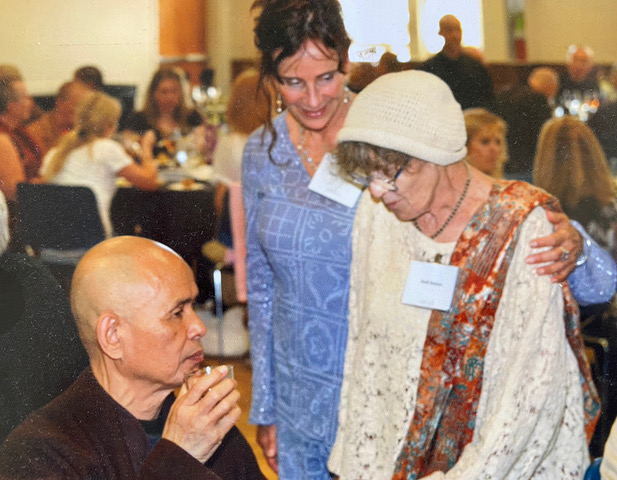 Five years ago, Jack and I got up at 5AM to drive from Spirit Rock where we were teaching the Teacher Training group to a spacious private home in San Francisco. The team of fourteen monastics who took care of Thich Nhat Hanh while he received treatments for his stroke invited friends to meditate with them from time to time. After a few months, Thich Nhat Hanh decided to go back to Plum Village, his community in France. We knew this could be our last chance to practice mindfulness meditation with him, maybe forever…
Halfway through the meditation period, a monk carried Thây in and helped him into a chair. Without opening my eyes, I sensed his presence. Feeling his mind and heart was like peering into an emptiness that was velvety dark and vast – rich and implacable at the same time.
When the sitting ended, it was intensely moving to see him. Still mostly paralyzed, Thây quickly moved his left hand up into half of a bow. He communicated powerfully with his eyes. It looked as though he were standing astride the threshold between worlds. His right eye, fathomless and empty, calmly viewed death; his left eye looked at each one of us, one at a time, connecting, acknowledging us deeply, with a tiny half-smile. As he would say, "Because we have seen the path, we have nothing more to fear." 
The room was filled with deep feeling as he left. We passed cups of tea around the circle, mindfully, from self to other, smiling, grateful. I remembered a phrase from many years of Zen practice and teaching: Buddha Nature pervades the whole universe, existing right here and right now – in this cup of tea, this moment – this inter-being with Thây, with the sisters and brothers who shared their practice with us and tend him with boundless understanding and loving care. We sat on the living room floor, on sacred ground.
A friend asked me today, what is deep Dharma to you? Just this. This is the profound truth, cherishing each moment and each other.