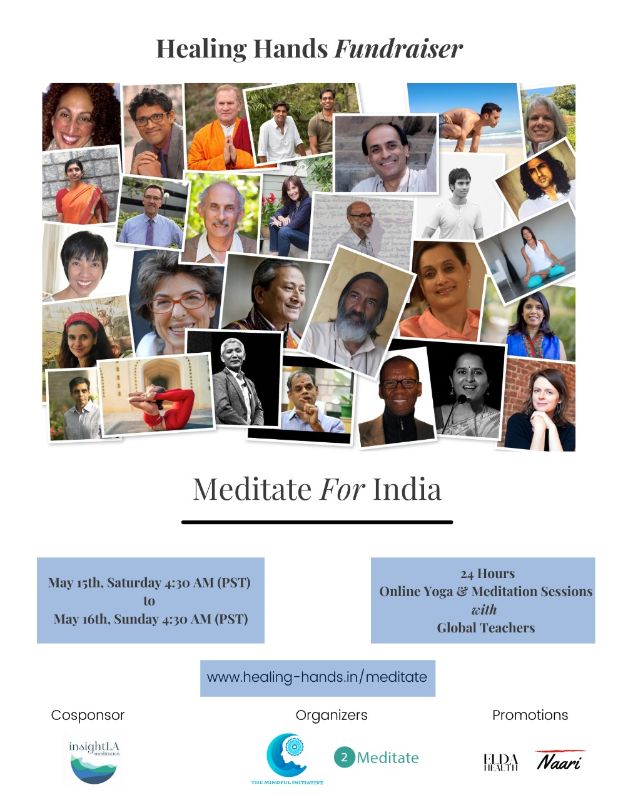 India is suffering. COVID is ravaging the medical system and the supplies. We would like to offer refuge to feeling helpless or afraid. We have planned a 24/7 round-the-clock meditation and yoga marathon sessions offered by well-known global teachers. This gives a chance to send compassion to people in India. Choose any time that suits you and use the zoom link to join in. I urge you all to make sure to join in.
The event begins at 5 pm IST (4:30 am PST) on Saturday, May 15th, and ends at 5 pm IST (4:30 am PST) on Sunday, May 16th.
In particular, Saturday, May 15th, Pacific Standard Time from 8:30 am till 5:30 pm, I will be moderating some amazing sessions from amazing teachers from the US as listed below. I suggest you make a day-long or half a day retreat for yourself by attending the series of sessions. I hope to see you all!
List of Speakers from the US
 
8:30 AM – Chris Chapple – Meditation on Five Elements 
9:30 AM – Raj Raghunathan – Tips for Wellbeing 
10:30 AM – Trudy Goodman – Meditation and Reflection
11:00 AM – Jack Kornfield – Meditation and Reflection 
11:30 AM – Melissa McKay – Compassion 
12:00 PM – Lama Surya Das – Chanting & Meditation 
12:30 PM – Lienchi Tran – Maintaining Practice in Daily Activities 
1:30 PM – Diana Gould – Contemplation
2:30 PM – Karen Cryer – Somantic Yoga & Body
3:30 PM – James Rosser – Bramhaviharas
4:30 PM – Dina Aish – Bramhaviharas
This event is also a fundraiser. The need in India is great and we want to make sure every penny goes to the cause we are supporting directly, To get to know more about where your funds could be going and to get the full program, click HERE. 
If you feel inspired to donate to our cause, you can do so now or later after the sessions. We are ensuring that the money goes to the right people who need it the most. A hospital that serves the underserved and the essential medical lits to the rural villages in India.