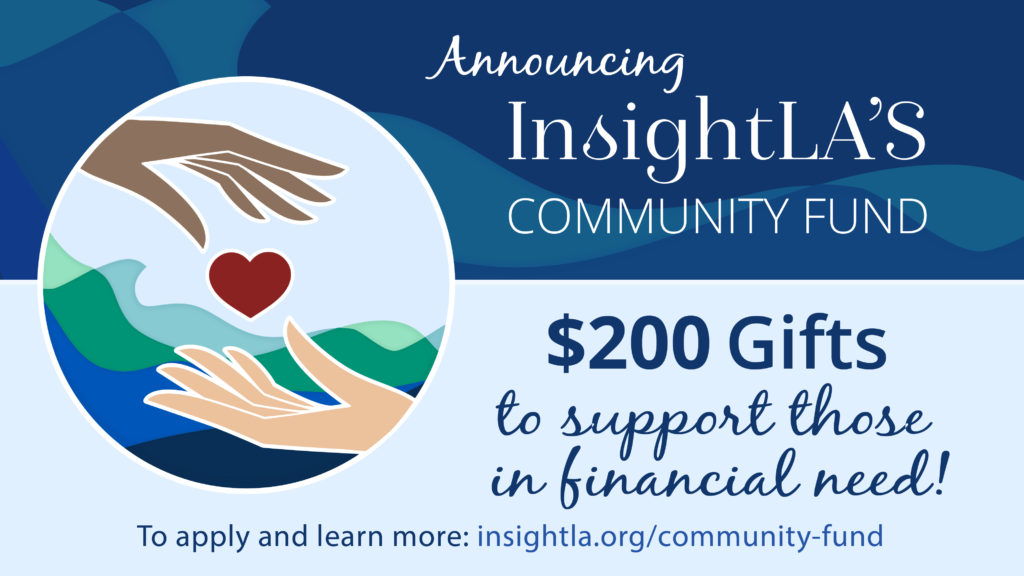 In the spirit of Giving Tuesday, InsightLA is giving gifts to community members experiencing hardship.
"Generosity allies itself with an inner feeling of abundance—the feeling that we have enough to share." – Sharon Salzberg
The COVID-19 pandemic has rendered many financially vulnerable as lay-offs and reduced work hours continue through these difficult months of safer-at-home. Being a loving community means that we hold each other through suffering, which is why we are launching the InsightLA Community Fund in an effort to support those of us struggling with income loss. 
A generous donor has seeded the fund with enough money to provide 30 gifts of $200 each to those who are suffering from this crisis and if funds remain, for future emergencies. All are welcome to apply with priority given to InsightLA community members who have been systemically economically marginalized and/or are not currently receiving government aid or other financial assistance. 
Generosity is the glue that holds our human family together.  We are all part of this beautiful web of giving and receiving, supporting each other through difficulty.  
Perhaps this is a moment when you could benefit from receiving or maybe you are in a position to share this information with someone you think might benefit.  If you would like to serve more of our community by making a donation to the Community Fund, you can visit www.insightla.org/donate and write "Community Fund" in the Dedication section.
We are so grateful to be sharing the difficulties and joys of this life together.