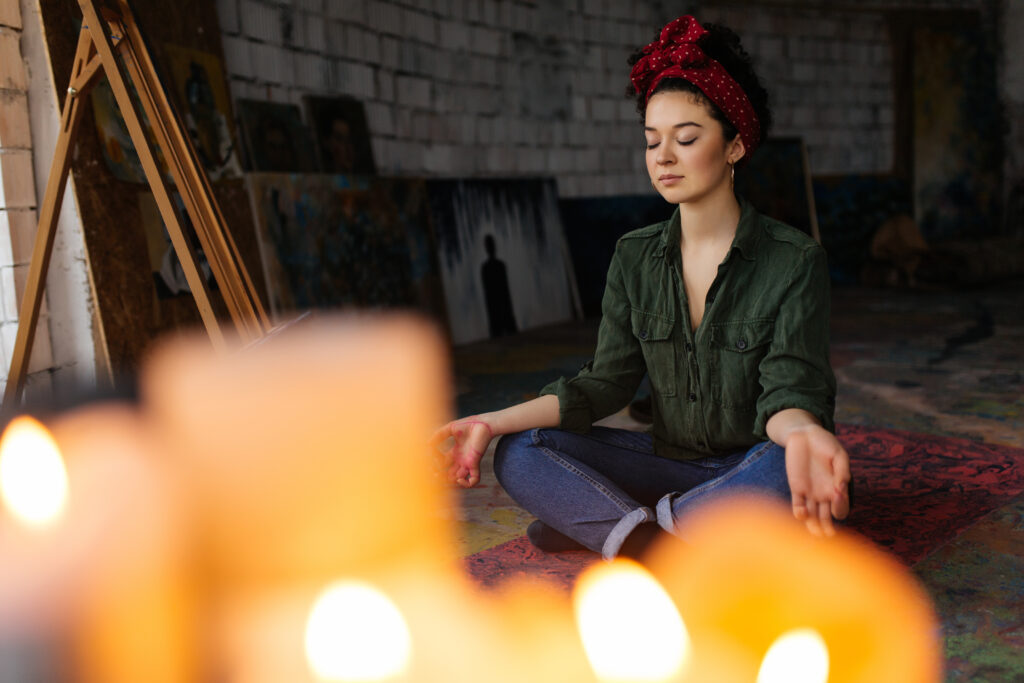 After years of building a career as a creative professional, I feel like I have finally started my mindful creative journey. But over the past decade, although I have had a handful of creative jobs, I felt a million miles from this path. My creative collaborator Carrie and I met while working as art directors in a very toxic corporate environment. Value was placed on final designs, with little care given to nurturing individuals and the creative process. The endless hours of disconnection led to spiritual and artistic depletion, with a sense of aimlessness. Carrie and I hit a wall, and being good friends, we committed to a powerful life change together. We left the company to rediscover our creative selves, to begin again.  
Carrie began crafting ceramics, while I explored working with sound and visual expression. We cultivated mindfulness of creativity itself as a way of connecting directly to the creative stream within. To engage our curiosity, we no longer focused on the outcome of the work. Instead, we focused on the experience of being playful within each moment, exploring colors, shapes, and materials that drew our attention. We enjoyed the beauty of nature as inspiration and allowed it to speak to us without words. And things started changing in my creative life.  
As I learned to befriend the obstacles that impede creative expression, the challenges softened through my daily self-compassion practice. It has been healing to incorporate child-like projects and materials like collage, doodling, and beading as a tool to invite my inner critic without paralyzing my flow. Now I can notice the judgment, the negative thoughts, and the challenging feelings and use the noticing as a way of tending to my creative spirit. I know these feelings are not the stream, just rocks to move around and over, and not something I need to grapple with or create stories about.  
The more Carrie and I have explored our respective creative experiences, the more we realized how much we have benefitted from mindfulness, self-compassion, and community as vital forms of sustenance on our artistic paths. In many ways this space that Carrie and I have created to process our creativity feels just as important as the life changing decision we made to leave our corporate careers to explore a life of joyful creativity. A deep well of creative inspiration has been experienced in this shared place of mindful and compassionate not-knowing. This is where our creative flow comes from as we begin again, in each moment, everyday.




Lulu Toselli graduated from InsightLA's Mindfulness Facilitator Training program and has been guiding sitting groups at InsightLA East.  She has shared meditation, classes, and workshops at USCMindful, LA Design Festival, Poketo, Mercado Sagrado, Spotify, Art Basel Miami, Noh Wave, The Fullest, Workspace Oasis, and Show & Tell, amongst others.

Hong Kong-born and LA-based Carrie Lau is an illustrator, art director, and maker of playfully minimalist ceramics who uses the process of making art to bring her into a mindful state. Her brand Object-Matter releases her ceramics, paintings, home textiles and art objects which are distinguished by modern curvilinear forms, playful movement, and naturalistic tension.

Lulu and Carrie will be hosting Youngish Adults: Make & Meditate, a half-day non-residential retreat at Benedict Canyon Retreat House on Sunday, July 16, 2023 from 11:00 AM – 3:00 PM PT. 
---
Want more posts like this delivered weekly to your inbox?
Subscribe to our newsletter for weekly blog posts, inspiration, classes and much more!
---