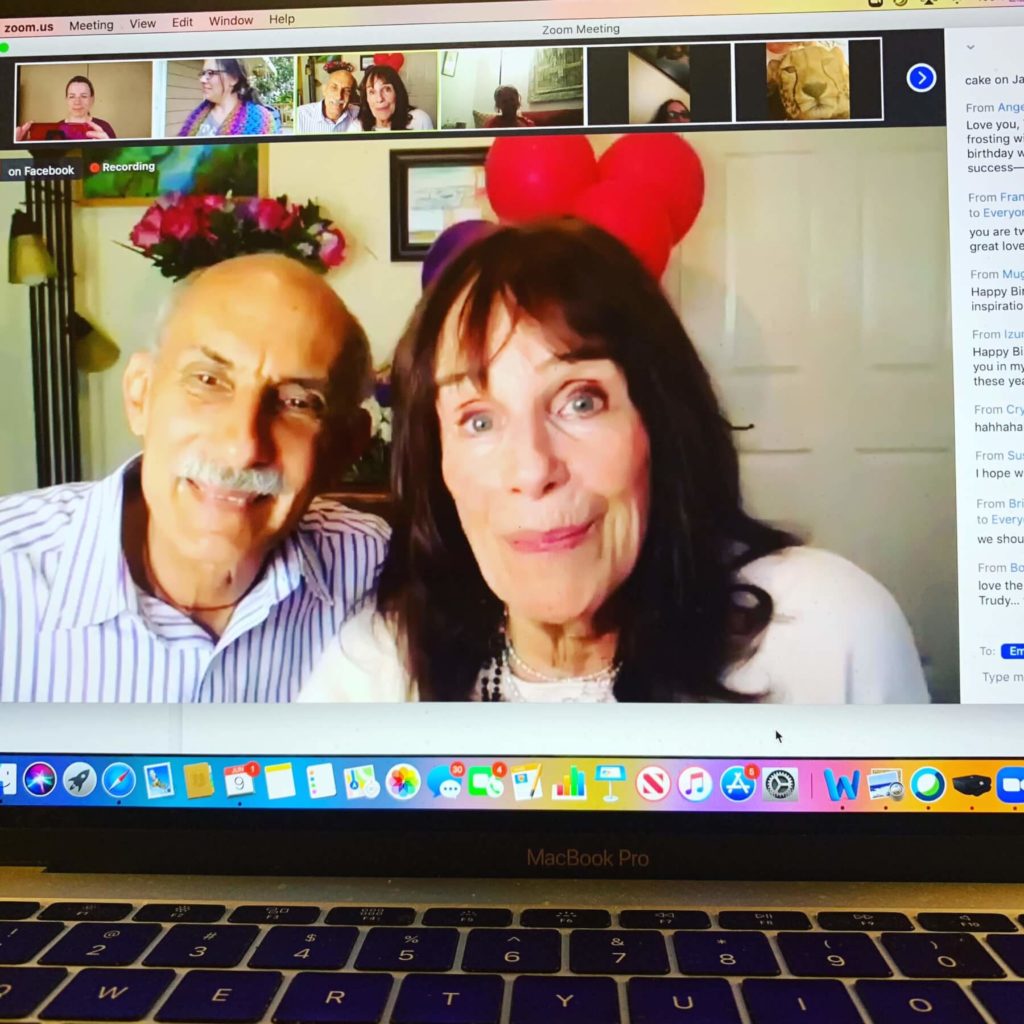 This week we celebrated Trudy's 75th birthday online. With a 1000+ people from all over the world, including her long time friends Tara Brach, George Mumford, Jon Kabat-Zinn, Sharon Salzberg, Joseph Goldstein, Sandra Oh, Dan Siegel and Caroline Welch, Susan Kaiser Greenland, Lama Surya Das, Anam Thubten, Chris Germer, her grandkids Allie and Owen Worchell, and others. And, of course, her beloved – Jack Kornfield.
The event had been planned for many months as a fundraiser for InsightLA, which, as a non-profit, relies on donations to keep going, especially under COVID-19. And then the US experienced the biggest wake- up experience for white people since the 60's, maybe longer. White America is – finally! – waking up to the truth of ongoing individual and institutional racism and violence that has been right in the face of black and brown people for centuries. The mistake that white people have the privilege to make is to pretend that nothing is happening, that there is no racism because we don't experience it. Some of us might even believe that unconscious bias doesn't apply to us. That mistake is a lot harder to make now, and this is good news. The author and news commentator Van Jones said he'd never seen so many white people come forth to protest racial injustice. He wept, wishing his parents could be alive to witness this moment.
On top of all this, Trudy's birthday turned out to be on the day of the memorial service for George Floyd. What to do? Can we celebrate on a day of grief? How should we respond to the on-going, blatant public violence against black people? We went back and forth, debating about whether to postpone the event or go forward. In the end we chose to both mourn black lives lost while celebrating love and compassion, raising funds for both InsightLA's "Insight in Action" and for Black Lives Matter. 
But it really got me thinking about what is at the core of our practice; learning to embrace both the 10,000 sorrows and 10,000 joys of human life in the wholeness of our existence. It is not either/or, it is both/and. For we can hold the intensity of cruelty and hatred seething in the world right alongside the love we feel and trust. Opposites can peacefully co-exist, held in our one heart. My son graduated from middle school yesterday. Summer is here with its astonishing beauty. Our beloved founder, teacher, friend, mentor and colleague turned 75!
I believe we have the moral responsibility to hold it all in wisdom and love, as a true legacy for our children and an investment in justice for our planet.