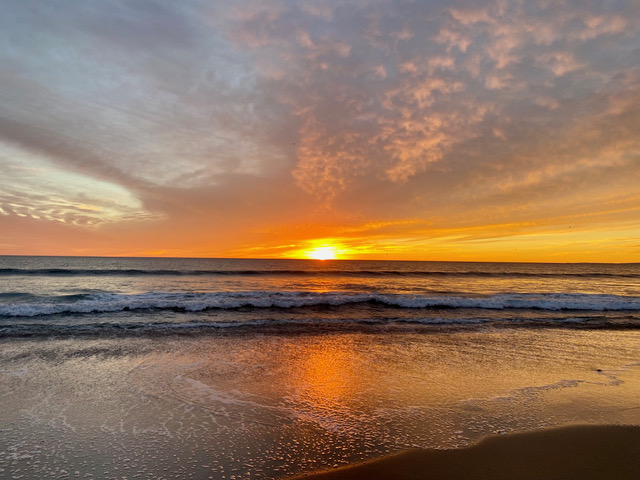 Dear Friend,
Thank you for stopping by. It's 2022 – on the morning of December 31st, I sat down to write some wishes and aspirations for the new year but I felt tired and unmotivated. All I could discern was the exhaustion from a busy year. So I gave up and went for a walk along the beach with my partner. Our conversation allowed me to begin to contemplate plans for the next year.
At first I was unaware of the waves curling before breaking into the beach, the birds overhead, and the distant conversations around me. My mind was only cognizant of my rigid, tense body – until my partner pointed to the sun, lowering into the last sunset of 2021. 
Then, instantly, I was transported to a beautiful, harmonious place; the crashing waves and my surroundings came alive. I tasted the air and noticed people strolling by, their smiles bright and animated. My fatigue became merely a backdrop to this new, present world, where the squawking from the birds and the flow of the water receding from the beach made a rhythmic musical pattern.
Later, waiting for the "official" end of 2021, I was troubled by my unfinished list. I paused, recalling that magical moment of vivid presence at the beach. Suddenly – unexpectedly – I felt genuine comfort right in the midst of all the uncertainty of my life, and all the unknowns of everyone's lives at this time. I don't need a list to observe the sunrise; and, at night, I can enjoy the moonlight radiating through half-closed blinds when I turn off my night lamp. 
So before midnight arrived, I followed a Peruvian tradition (called las doce uvas de la suerte) and ate twelve grapes, one for each month; and, with every single bite, I was present, just like I was at the beach. I was attentive to the texture of the grape before it crunched between my teeth, releasing its sweetness. 
My dear friend, what I learned is about embracing my difficulties, knowing, always, that beauty is in every wave crashing, every conversation, and in the wind that blows my hair away from my shoulders. You, too, can experience this powerful presence and trust that – whatever your struggles may be – you can taste the beauty in your life.
With much love,
❤️ Alex
(Learn more about Alex and explore her current classes here.)